Rubber pad is one kind of improved and extended product of rubber rack, they main are begin installed on steel tracks, its character is easy to installation and do not damage the surface of road. 
Range of application :
Excavator , Paver , Tractor , Loading machinery , Non excavator machinery , Grasp machinery , Drilling Machinery ……
Rubber pad type
1. Bolt-on: Work if your existing steel pads have pre-drilled holes
2. Clip-on: Use clips that wrap around the pad and work with most styles of pads.
3. Chain-on : Bolt directly to the chain so there is no triple-grouser shoe involved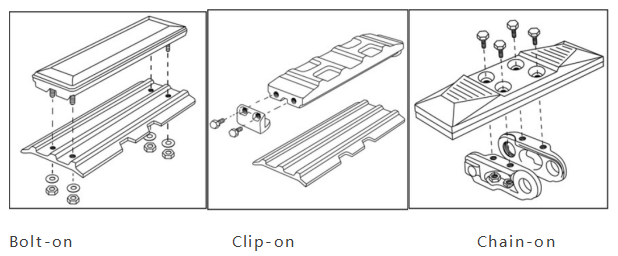 Bolt-on product we can supply
Bolt-on

Type
 Pitch
h
L*W*H
Bolt
D*d
230BA
90
15
230*60*35
M12*25
150*0
230BB
101
16
230*70*37
M12*25
170*0
230BC
101
16
230*70*37
M12*25
150*0
250BA
101
16
250*70*37
M12*25
200*0
300BA
101
16
300*70*37
M12*25
200*0
300BB
101
16
300*70*37
M12*25
200*0
350BA
101
16
350*70*37
M12*25
200*0
350BB
101
16
350*70*37
M12*25
250*0
350BC
135
14
350*106*37
M12*25
250*46
350BD
135
14
350*106*37
M12*25
290*46
380BA
135
14
380*106*37
M12*25
300*46
400BA
135
14
400*106*37
M12*25
300*46
400BB
135
18
400*106*44
M12*25
300*46
400BC
135
14
400*106*37
M12*25
300*46
400BD
140
18
400*115*44
M14*25
300*52
400BE
140
18
400*115*44
M14*25
350*52
450BA
135
14
450*106*37
M12*25
350*46
450BB
154
20
450*124*47
M14*25
350*58
450BC
154
20
450*124*47
M14*25
350*58
450BD
140
18
450*115*44
M14*25
350*52
475BA
171
20
470*136*54
M16*30
350*60
500BA
171
20
500*136*54
M16*30
400*60
500BB
175
26
500*126*58
M16*30
400*57
600BA
190
26
600*140*67
M20*35
400*69
600BB
171
20
600*136*54
M16*30
500*60
700BA
171
20
700*136*54
M16*30
600*60
200BP
0
200*95*30
M14
130*0
260BP
155.6
22
260*130*50
M14
200*57
300BP
155.6
22
300*130*55
M14
220*57
350BP
155.6
22
350*130*55
M14
270*57
400BP
155.6
22
400*130*60
M14
300*57
260BN
140
18
260*120*50
M14
190*52
300BN
158
18
300*130*50
M14
237*57
260BM
140
18
260*120*50
M14
200*55
300BM
158
18
300*130*50
M14
137*54
300B2
155.6
18
300*130*50
M14
220*0
300B4
155.6
18
300*130*50
M12
220*45
320B2
155.6
18
320*130*50
M14
220*0
320B4
155.6
18
320*130*50
M12
220*45
350B2
155.6
18
350*130*50
M14
270*0
350B4
155.6
18
350*130*50
M12
270*45
260BL
0
260*155*36
M12
235*60
310BL
0
310*155*36
M7/16
284*60
355BL
0
355*155*36
M7/16
325.4*60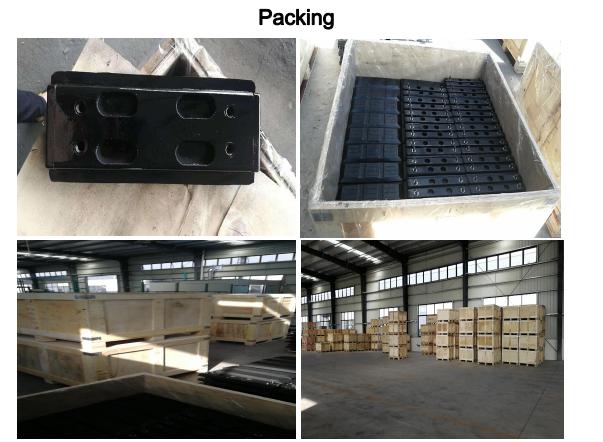 ---
Post time: Jun-12-2020